By  Zohura Chowdhury and Kiara Ventura
With the unpredictable spring weather and the dynamic range of temperatures we New Yorkers are facing each week, there is a need for a speedy, fashionable, solution to adapt to the rapid changes. The solution for this is wearing layers. The art of layering is accomplished by wearing clothes over clothes while adding your personal style.
Instead of wearing one basic sweater (that you wouldn't be able to take off when the temperature rises throughout the day) , add a fashionable twist to your outfit by wearing various layers. For example, wearing a t-shirt with a cardigan and scarf on top. This combination will definitely keep you warm in the cold. However, this outfit could also adapt to the higher temperatures in the spring; if you get a bit hot, you can simply remove one layer (such as the scarf or cardigan).Layering makes it easier to go from indoors to outdoors and vice versa. Simple, right?
Now here are some MCSM students showing us how it's done: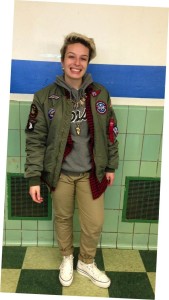 Lexus Pino wears a sporty hoodie with a red flannel button down shirt and varsity jacket on top. She adds a touch of punk glam with a chunky gold necklace and white platform sneakers.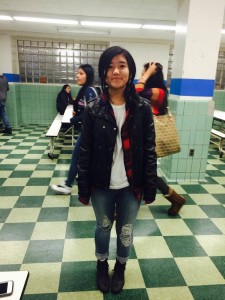 Sonu rocks a plain white t-shirt layered with red flannel shirt and a black leather jacket. Urban, laid back, and simple.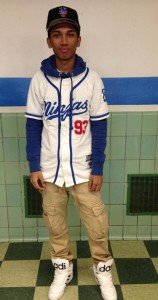 Wasi represents his teams by wearing a blue hoodie with a button down jersey over it. A Mets hat and Adidas sneakers top off his sporty look.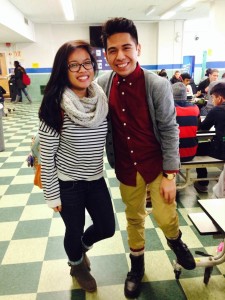 Left: Ann Marie wears a chunky infinity scarf and a striped sweater. It is a very warm and comfy look.
Right: Larry combines a simple burgundy button-down, with a gray cardigan. He adds a touch of class with a nice vintage watch.
Both demonstrate the art of layering on their feet by wearing thick socks with boots.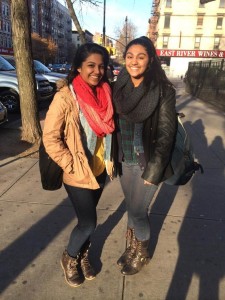 Eshka (right)  and Sumaia (left) both style their layers by wearing an open button-down shirt with a light jacket, black boots, and A thick infinity scarf for the lovely outside weather.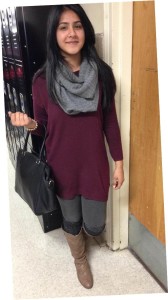 Nazish wears knee-high boots with sparkly dark grey socks over gray leggings. She adds color with a long plum colored sweater-dress then layers it with a grey infinity scarf. Cute, comfy, and perfect for school.
These looks were created based on colors, weather, trends, and most importantly personal style. The "layered look" is seasonless. It can range from fall to winter to spring. Have fun with the combinations, and try it yourself!