By Beverly Danquah
Being a part of Manhattan Center's talent show this year was, as always, an honor. As soon as my feet hit the cold, hardwood floors of the renowned stage of Manhattan Center's auditorium, I knew this year's performances would be good ones. I was given the opportunity to revel in the various skills demonstrated by my classmates; one of which was beatboxing, a new act that took the audience by storm.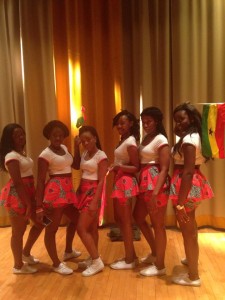 Performing in the talent show requires a lot of time and dedication, however. You have to be committed in order to keep the show on the road and disregard any and all negativity. There will be many instances where you'll ask yourself if you should go on with it, if it's worth it, and  if you even have the time!  But in the end, when you're walking through the hallways and everyone is applauding you in recognition of what they saw you do, it's worth it. The feeling of self-fulfillment you get afterwards is something everyone should have a chance to experience.
I can still remember the day Ms. Rivera said she was postponing the talent show because it was clear that a lot of people weren't ready. It was a very bitter-sweet moment. A lot of my friends couldn't come due to the date being changed and I was already anticipating the show. But everything happens for a reason and everything usually works out for the best, so I wasn't concerned. The date being pushed back gave many acts time to perfect their performances.
Performing in the talent show is a great opportunity to overcome shyness. After being a part of this show for three years, I have overcome my own shyness immensely. It's crazy what simply dancing, singing, playing an instrument, etc. on stage can do for you! There are many things apart from shyness that you can work on simply by performing on stage, whether you'd like to improve the way you speak in front of a large audience, or the way you act.
If you know you have a talent, and you can do whatever you do exceptionally well, the school's annual talent show is a great opportunity for you to share your gift. All appropriate acts are welcome. It is better to look back and know you did something than to look back and say "what if?"