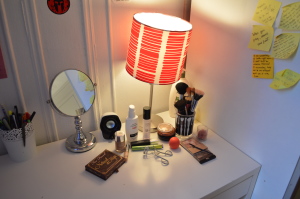 By Stephanie Luciano
Hello ladies! And gentlemen if you're out there! Welcome to the Beauty section of MCSM RamPage, where I will show you the basics of skincare and makeup. You can expect to discover easy tips on how to contour and highlight facial features; how to enhance a range of everyday looks, and how to achieve popular beauty trends like  "bold lips." I will also talk about cleansing and conditioning rituals such as D.I.Y. Facial scrubs, etc. . . . all to enhance your beauty and allow you to strut what you've got!  Show the world the true 'artist' within you!
For this month, I've created a simple BACK TO SCHOOL look, which consists of neutral colors for an everyday natural look. I hope you guys have kept your skin fresh and glowing, especially for the start of a long school year. Enough sleep is always important, because it keeps your skin radiant. (Please keep that in mind for those sleepless nights!) Anyhow, the products I used for this month's tutorial are:
-Oil-Free Neutrogena Moisturizer
– Makeup Forever HD Primer
– Neutrogena Healthy Skin foundation
-Two Faced – Natural at Night eye shadows
– L'Oreal's True Match Concealer
-Revlon's 3D Volume Mascara
-Sally Hansen Eyelash Curler
-Neutrogena Healthy Skin blush
-Beauty Blender
-EOS lip balm
-NYC BRONZER
-Mac mineralize powder
-Maybelline – DEFINE-A-LASH Mascara
– Victoria Secret Beauty Rush lip gloss
A video tutorial will be released shortly where I show you how I apply each and every product. One of the main things you MUST remember… A LITTLE GOES A LONG WAY!
For this tutorial, I began by washing my face with Neutrogena's Pore Refining Cleanser and using a small facial brush I purchased at Target. Once I did that, I applied a small pump of my everyday moisturizer, followed by my Makeup Forever primer and let it sit for a minute or so.
The products I will be talking about today are inexpensive and are great for your skin, giving you the perfect amount of coverage. As a teen, you never want to have a "cakey" face.  You want your skin to look flawless in pictures, as well as up close! Personally, the majority of my teen years I've suffered with acne-prone skin, and for those of you out there with the same problem, don't try to hide or cover it with makeup, the trick is … to work around it.
For the beginning of my back to school look, I applied some foundation to the palm of my hand, and later used the Beauty Blender to even it out over the entire face. The amount of foundation I use varies. Sometimes I just want a little coverage to cover up any redness, other times, I need to hide my blemishes, and use a little more. This time, I guess the amount of foundation I used was in-between.
I later applied some concealer under my eyes, for a more awakened look.  This was followed by Mac's mineralized powder, dabbed on my T-ZONE, in case oiliness occurs throughout the day! I later filled in my eyebrows and began working on my eyes. I shaded-in the crease with a matte dark brown to create definition and a pop of color. I used my eyelash curler and applied two coats of mascara to make my lashes much more luminous and flirty. I followed that with a simple contour under my cheek bones and around my nose to create a fine appearance. Last but not least, the most important part of all; I applied my lip balm and lip-gloss. Muah! All done! Off to school I go! Ready for the first day of school, and a successful school year!
But before I go, here are some helpful tips that will help you establish a flawless face for this month!
TIP #1: Always get enough sleep!
TIP #2: A little goes a long way
TIP #3: Build as you go. (Always start off small, and then build up product to your liking.)
TIP #4: Always begin with a fresh clean face
I'll see you guys next month! And stay tuned for a Bold Lip makeup tutorial. Hope you guys start off the school year on the right foot, and keep practicing your makeup skills! You can never get worse, you can only get better!