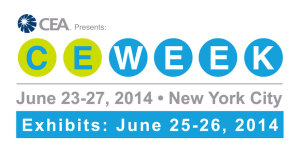 By Carol Cooper
Once a year near the end of June the Consumer Electronics Association (CEA), and its media-outreach partner ShowStoppers, invite journalists, bloggers, young inventors, public policy advocates,  early adopters  and professional retailers to gather in Manhattan's Metropolitan Pavilion for an exciting week of tech-savvy exhibits and panels.   The purpose of this event is to introduce and discuss the latest electronic gadgets created to make modern life easier and more enjoyable.  Everything from the latest HD TV models to the newest 3D printing technology is demonstrated on the exhibition floor, while individual companies hold press conferences that provoke questions about the many changes technology is making in daily life.
Last year the Seido Corporation's tiny Power Vault proved itself to be the best portable charger for both phones and palmtop computers. There was also a surprise appearance in 2013 by legendary hip-hop producer Swizz Beats as co-owner of the audio equipment company Monster Products.  Swizz came to show off the headphones his firm developed in recognition of the fact that not every style of music benefits from increased bass-frequency response.  Monster collaborated with producer Emilio Estefan of Miami Sound Machine to make headphones calibrated to enhance the mid-range frequencies used by Latin music and dance pop.  Catering to huge numbers of Latin music and EDM fans with a product designed especially for their listening pleasure was a shrewd move, filling a need not anticipated by Monster's main competition, Beats by Dre.
This year, although CE Week didn't attract many pop music moguls, attendees still aggressively prowled the exhibition hall hoping to discover some truly innovative new product, or some previously unexploited niche market.  For example, Australia's STM Bags caught my attention with their wide range of sturdy, yet attractive travel cases that don't scream: "Hello thieves! I'm a big black computer bag, why don't you come and steal me!!!"  STM luggage gives you the streamlined look and quality of TUMI but without that ridiculously expensive TUMI price tag.  Plus the company guarantees your bag against breakage for life.  Now that's something most people don't see every day: a high-performance product that prioritizes customer satisfaction above all.  CE Week always looks for presenters who strive to fill obvious gaps in the marketplace, whether the missing factor is stylistic sophistication or optimum functionality.   So all you aspiring robotics engineers, software programmers, IT security experts,  digital entrepreneurs and hardware designers should sneak a first look at coming trends by streaming future conference events online at : www.ceweekmy.com/tv, or keeping up with CEA worldwide events  via  http://www.ce.org .
Although this event hosts a popular "Wearable Tech" fashion show every year, and is full of teen-oriented game apps, digital cameras, waterproof phone sleeves, and tablet accessories,  CE Week is not just about separating trendsetters from their disposable income.  They invite corporate CEOs, industry analysts, government lobbyists, research scientists and engineers to hold round table discussions about the future of computerized home health care for the elderly, affordable medical equipment for developing nations, and ecological solutions to wasteful urban energy consumption.  CE Week delights in helping inventors and manufacturers brainstorm with local hospitals, nursing homes, insurance companies, public transportation agencies, non-profit charity groups and even utility companies, to figure out what applied science and technology can do to improve the work of their respective institutions.
Keynote speaker David Putrino, a neuroscientist dedicated to the field of computer-assisted physical therapy, told the most inspiring stories of how technological innovation can serve humanitarian ends.  His non-profit company StreetSmartScience goes into inner city high schools to mentor students interested in STEM careers, while his volunteer work for Not Impossible Labs helped set up a self-sustaining 3D prosthetic lab in a Sudanese village to "print" replacement hands and arms for people who lost limbs during Sudan's civil war.  Equally fascinating was how much of Putrino's technical research and development is internationally funded via online crowd-sourcing initiatives.
Educational highlights of CE Week 2014 included a networking forum for women in the industry; a survey of current smart-home appliances; endless Android vs. Apple debates, and a special manufacturing focus on automotive computing in its race to develop a self-driving car.  But by far the most excitement was generated around the revolutionary new business model emerging from the 3D printing sector.  After watching a smart phone control the show-floor demonstration of the small, fast, inexpensive Pirate 3D "Buccaneer" from Singapore, displayed proudly alongside the equally portable 3D scanner from Toronto-based Matter and Form, people couldn't wait to hear what the  3D Printing Panel might say about the potential of these amazing tools for instant design and manufacture.
Based right here in New York are three 3D companies respectively dedicated to design, production and/or fulfillment:  Shapeways, Makerbot, and Bits to Atoms.  South Carolina's 3D Systems may have been the first business to "commercialize" 3D printing in 1989, but now all four companies are dedicated to making 3D printing accessible to everyone.  One thing every company representative on this panel made clear was that by expanding their respective online networks of inventors, design programmers, and consumers, each of  these companies are changing the way new products generate market demand, and reach buyers. Never has product prototype development been so fast, so precise, and so cheap.   The Pirate 3D startup whose Buccaneer printer was the biggest hit of this CE Week was created by two Singaporean students with a Kickstarter campaign.  Much to their own surprise, suddenly these young inventors find themselves on the verge of worldwide success. Dare we dream so big?   Now that MCSM is lucky enough to have its own 3D printer, perhaps some computer genius from our own school could come up with the next big thing in 3D product design.