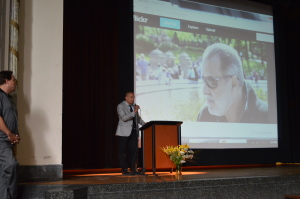 By Beverly Danquah
Staff, faculty, friends, students and MCSM alumni gathered on Wednesday September 4th as the life of Mr. John Ayala was remembered. The afternoon started with a word from Ms. Alina Quinde, the guidance counselor of the seniors, who in collaboration with Ms. Maritza Villegas organized the event. As the advisor of the film club, Ms. Quinde felt graced by help from Mr. Ayala due to his love for photography. She made clear that Mr. Ayala left his mark on many aspects of high school life and helped students in any way that he could.
Principal Jimenez spoke next, starting off with how he first met Mr. Ayala. Unbeknownst to many, the friendship between these two goes way back. Many years ago, after working together in another school, Mr. Jimenez landed the position as Principal at Manhattan Center and had to leave. When he heard that Mr. Ayala was also looking for a job, he knew he had to get him a job at Manhattan Center.
Mr. Jimenez recalled having disagreements, at times, with Mr. Ayala; disagreements which Mr. Ayala won 99% of the time. "Mr. Ayala always thought of the students first, he loved the students and the students loved him and that's why he was here," Mr. Jimenez said during his speech. Mr. Ayala was always pushing for senior event decisions to be made by the students, rather than by the staff. He sincerely cared about the happiness of the students.
In the summer of 2013, Mr. Almanzar, Mr. Hernandez and Mr. Ayala took a trip to the Dominican Republic. Former student Hansel Nunez created a slideshow using photographs from the trip, with quotes about losing a friend and sad music. The slideshow brought tears to many eyes and the sound of sniffles could be heard around the auditorium. This slideshow showed a remarkable trip to the Dominican Republic which involved adventures, giving back, and merely enjoying each other's company. The few words Mr. Almanzar was able to say captured the moment perfectly; the school had lost much more than a counselor.
Former students from the class of 2013 also came and spoke about the shock of the sudden loss of Mr. Ayala. They reminisced about moments when they'd be in his office talking, working, or hanging around with him, or just seeing him in the halls. Former student Alvin Ortega was at a loss for words, but vividly recalled how great Mr. Ayala made his senior year.
Although he was a graduate, Ortega still kept in contact with Mr. Ayala and Mr. Ayala checked up on him from time to time. He never expected to lose him so soon. Senior Hilary Ortiz wanted to speak on behalf of the film club about all the wonderful things Mr. Ayala had done, but was too overcome with emotion.
Mr. John Ayala was an anti- drug counselor for students who were unknowingly taking the wrong path, and also taught us about the dangers of drug and alcohol abuse. For many, he was the only person that could be spoken to regarding such topics. In addition, he was helpful to MCSM in many ways, supporting our seniors in all their activities, assisting clubs, providing us with photographs of all our special moments throughout the year, and of course organizing Manhattan Center's annual fashion show. He will always be missed, and we thank him for all that he's done for us. May he rest in peace.
The Manhattan Center staff thanks all who attended the memorial even though it was difficult.  "He was more than a friend or colleague, he was a brother."- Mr. Jimenez.