By Keisha Aboagye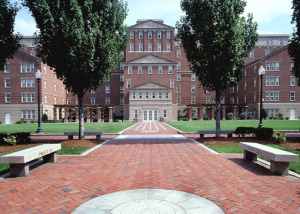 Established in 1914 as a business school, Johnson and Wales University is a private, non-profit, co-ed educational institution. The university has four campuses, respectively located in Providence, North Miami, Denver, and Charlotte. Johnson and Wales University has two main colleges with sub-schools:  the College of Management and the College of Arts & Sciences.  The College of Management is comprised of a school of business, a school of hospitality, a college of culinary arts, and a school of engineering and design. The College of Arts and Sciences consists of a school of science and liberal arts, a school of online and continuing education, a school of professional studies, and a center for physician assistant studies.  The university also offers MBA, Master of Science, and doctoral programs.  Many students at Johnson and Wales participate in extracurricular activities outside of the classroom, such as internships and study abroad programs. In 2013, 4,200+ students participated in some type of internship.
The school offers 16 varsity sports teams and various clubs such as fraternities, sororities or community service groups. Students also have the option to start their own clubs. Johnson and Wales has an acceptance rate of 76%. Tuition and fees for undergraduates total up to $28,239 per year. However, 93% of students receive financial aid. The average aid package is $20,898.  Many grants and scholarships are offered to students, with some scholarships covering full tuition.  To find out more information about the available opportunities at Johnson and Wales University, visit their website at www.jwu.edu,
Coca-Cola is offering an achievement-based scholarship of $20,000 for high school seniors that are "well-rounded," which means those that excel academically but also demonstrate leadership qualities in their communities. To be eligible, you must be a current high school senior  planning to pursue a degree at an accredited U.S. institution with a minimum GPA of 3.0 by the end of your junior year.  The application deadline is October 31. To apply, visit www.coca-colascholarsfoundation.org.