By Anthony Rivera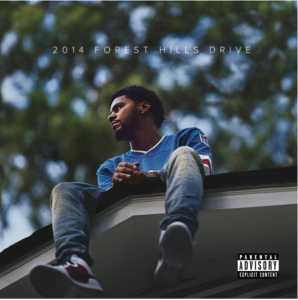 On December 29th, J.Cole released his third full length album, 2014 Forest Hills Drive. The album begins by creating a soft, down-tempo mood, accomplished through the use of a slow piano loop over a low, simple electronic sound. This gives the lead track, called "Intro," a very relaxing effect. This feeling is distributed throughout most of the album. The energy picks up with the next song, "January 28" while keeping the same tranquil tone and slow tempo, only this time highlighted and lyrically enhanced with explicit insights into J.Cole's career and life. As the record advances, the beat picks up and the sonic mood transforms into a more flamboyant and confident one. Imagine half the album rising to one large crescendo, which peaks with loud and aggressive tracks such as "Fire Squad" and "G.O.M.D", then decreasing back down to the same feel it gave you at the beginning.
The entire CD is set up in a way so that it can have a rise, a climax, and a fall with a few stray tracks in between. The rising section of the record includes tracks such as "Wet Dreamz" and "03 Adolescence," both of which contribute to a reminiscence of Cole's days as a teenager. This feeling of nostalgia is created through the use of a relaxed, downtempo sound, produced by the ASR-X pro. So, not only do the lyrics recall days gone by, the beat does too, being that the ASR-X pro was used mostly around the late 90's to the early 2000's. Then the tone of the CD starts to rev up with "A Tale of Two Citiez," an extremely rugged, up-tempo song which is written in the same emotional attitude heard in Kendrick Lamar's Good Kid m.A.A.d City. The song's dark and violent nature is displayed through a rough piano loop, suitable for the topic of crime in a city and how it changes people. After that, comes the climax I mentioned previously, in the track "G.O.M.D."  This is an extremely fast-paced track, repeating a sampled recording of a chant which plays over the beat. The rhythm itself is a jump up from the rest of the album, being that it is the same simple eight beats, but sped up to about two beats per second. Afterwards, things slow down again, with calmer, more tranquilizing songs such as "Hello", "Apparently", and finally, "Love Yourz", all of which are the same pace as the beginning tracks, only with more positive lyrics.
One of the most interesting things about this album is that it seems to have come out of nowhere. There was very little promotion preceding its release, yet it still gained a reasonable amount of popularity. Forest Hills Drive also includes no guest artists or "star" rappers.  This is an admirable but risky decision being that J. Cole has been constantly criticized for weak subject matter, even though he is recognized as a talented artist.
Cole is often referred to as predictable and somewhat dull. Many considered his previous works, such as Born Sinner and Cole World, too laid-back and boring although they displayed a certain amount of verbal skill. Here on his new album, he breaks away from that earlier style, and displays a little more aggression and confidence. However, it's now being said that he views himself as better than his recordings show him to be, even though his new-found confidence has improved his music. In a significant departure from his last release, Cole has stepped up his game and has managed to address topics such as black-on-black crime, police brutality, recent political protests, and the appropriation of black culture. These new issues are what highlight the current album and now separate him from the rest of his peers. Cole may not be offering as much insight or wisdom as he claims to be, but if you examine the lyrics closely enough, you'll notice that he offers more than a fair amount.