By Keisha Aboagye
Hampshire College is a private liberal-arts college, located in Amherst, Massachusetts. Its rural setting houses 1,400 undergraduates. Opened in 1970, it was an experiment in alternative education. Hampshire College is a part of the five college consortium, which includes Smith College, Mount Holyoke College, University of Massachusett,s Amherst, and Amherst College.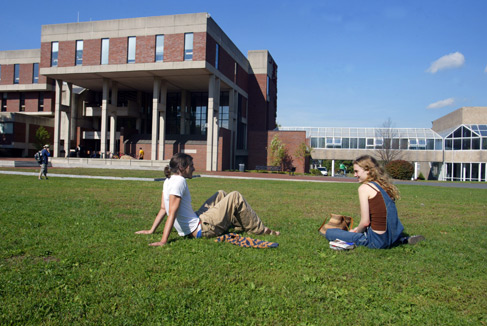 The main benefit of the five college consortium is that all the colleges operate together. These schools are very closely located geographically, and students have the option to take classes at any of the colleges, borrow books from their libraries, become involved in any of their clubs, organizations, and so forth. Hampshire is widely known for its open curriculum, portfolio focus, and narrative evaluations as opposed to GPAs and/or grades.
Due to its relatively small size, Hampshire classes have a 11:1 student/faculty ratio and an average class size of 15 students. Students at Hampshire design their own programs of study and concentrations, as opposed to declaring a major. However, there are various possible areas of study, including, but not limited to, Africana studies, neuroscience, linguistics, and even queer studies. There are five interdisciplinary schools: the school of cognitive science, the school of critical social inquiry, the school for interdisciplinary arts, a school of humanities, arts, and cultural studies, and the school of natural science.
Hampshire offers over 100 student groups and over 200 student activities for students to become involved in. Intercollegiate club sports, intramurals, and an outdoor recreation program are also available to interested students. Additionally, if students aren't interested in any of these extracurriculars, they have the option to join the clubs and organizations at any of the other four schools in the consortium.
Annual tuition and fees and room and board total to $59,130. However, there is a generous amount of financial aid available to students. Several merit-based and matching scholarships are available. There are also need-based awards for eligible students. 85% of Hampshire College students receive financial aid, which helps make attendance affordable. For more information about Hampshire College, visit their website at https://www.hampshire.edu/. 

Are you a creative and/or imaginative student? Would you like to win a $2,500 scholarship? If so, this is the perfect scholarship for you! Students must write a response of 250 words or less answering the following question: "Which superhero or villain would you want to change places with for a day and why?" To be eligible, you must be at least 13 years old and a legal resident of the United States. The deadline for this scholarship is on March 31, 2015 at 11:59 PM EDT, so be sure to visit https://www.scholarshipexperts.com/scholarships/our-scholarships/superpower-scholarship before then!