By Deborah Robinson
Haben Girma, an Eritrean-American who is blind and deaf, is the first deaf-blind graduate of Harvard Law School. She was born in California after her mother left Eritrea in the 1980s. In Eritrea there are no schools for disabled people. Girma had an older brother who was also born blind and deaf, and he wasn't able to get special education. Haben Girma was lucky that she grew up in the United States so she could have access to the special education that she needed.

Before enrolling at Harvard, Girma graduated magna cum laude in 2010 from Lewis & Clark College. In 2013, she obtained her J.D. degree from Harvard Law. Her primary purpose for wanting to pursue a career in law was because she wants to be a civil rights attorney for people with disabilities. Girma took the educational situation from her country as her inspiration to fight for better education for people with special physical disabilities
.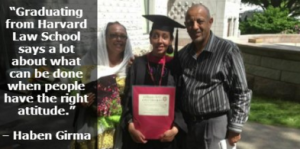 Haben Girma was named the White House Champion of Change. During the 25th anniversary of the Americans with Disabilities Act, Girma gave a speech, in which she told the story of her family, her disability, and the struggles her family had while in Africa. Then Girma introduced President Barack Obama and Vice President Joe Biden.


Girma works at a nonprofit organization called Disability Rights Advocates that is based at University of California at Berkeley.  She helped win the National Federation of the Blind v. Scribd case. Prior to this case, the National Federation of the Blind discovered that the digital reading subscription service (made by Scribd Inc.) had not been designed to work with the software that blind people use. This made it harder for blind people to communicate.
To communicate, Girma uses a digital Braille device. This device, as well as other communication devices for people with physical disabilities, was not available for her brother in Eritrea. Now, she advocates for the accessibility of digital communication devices. "Digital is just ones and zeroes … It can be converted into any kind of format. And those people who develop these services – programmers, technology designers – they have an incredible power to increase power to increase access for people with disabilities. And I hope they use it," she said. 

Haben Girma is an inspiration to people with disabilities as well as people without disabilities. She is living proof that if you are determined enough and if you try hard enough you will succeed. She is deaf-blind and she went to Harvard, the number one school in America. Most people tell themselves that they can't do something or they are not good enough but Girma's story shows that nothing is impossible. She said that she is proof that "if you believe that you can achieve a goal, then you will."