By Aaron Jackson
It's only been three months into 2016 and we've already been blessed with what looks like to be one of the most solid alternative albums of the year, Santigold's latest release, 99¢.
Yes, Santigold (more formally known as Santi White) has returned from her four-year hiatus with a sunny, happy-go-lucky album that apparently deals with consumerism and the topics that surround it. What's so jolly about consumerism? Beats me.
Apparently White doesn't find it gleeful either because she ditched her entire concept literally two songs into the record. Although Santigold has been going hard with this concept in her promotion (see: her album release party and her Tonight Show performance), the album itself barely holds up her message and strays far away from it at times. Songs like "Can't Get Enough of Myself," "All I Got," "Who I Thought You Were" and others add to what she's going for, but having less than 50% of the songs on your record supporting your concept probably isn't the best idea.
White hasn't lost her ability to write a great song. The lead single "Can't Get Enough of Myself" is a whimsical and cheery song about narcissism (y'know, as all character traits of this sort should be portrayed). It sounds like an older tune — maybe something you'd hear on PBS Kids during its early to mid 2000s run — and has some slick, tongue-in-cheek lyrics to go along with. It's hard not to fall into White's unabashed narcissism when she sings "All I wanna do is what I do well, Ain't a gambler but honey I'd put money on myself" or "If I wasn't me, I can be sure I'd wanna be, I'm pretty major and I'll say it out loud." But she makes pretty clear she's mocking all of this with a line like "Cause my brand does vainglorious much better for your health."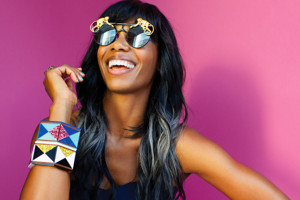 Santigold then abruptly switches directions musically and breaks out into the dance hall bop that is "Big Boss Big Time Business." Santigold holds nothing back on this one. She brings an in-your- face beat, lyrics — she even makes use of a very Caribbean-centric dialect and accent. I, being West Indian, am living for it.
The record continues its trend of overwhelming sunshine with the more pop sounding, extremely hyperactive Banshee, with its streams of "Come on!" being yelled every now and then, and the more reggae inspired "Chasing shadows" that would cause your mouth to go into retirement dare you try singing as fast as White does on this song.
White then takes a more somber approach with the ever so ominous "Walking in a Circle," where she layers her voice over and over again, slows it down and changes her pitch to add a dark, sinister and overall brooding effect. It's like she shoved you into some villain's lair to be tormented, or she just hired said evil mastermind to collab with her.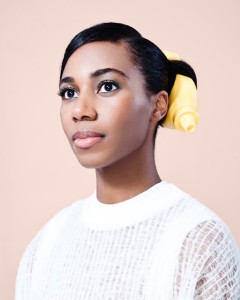 On a more somber note is the ILOVEMAKONNEN featured track, "Who Be Loving Me." My main complaint with this one is ILOVEMAKONNEN's vocals, which are at times listenable. You could buy into their faux attempt at trying to sound sleepy or dreamlike, but holy crap, are his vocals bad. Especially compared to when Santigold comes in on the next verse and raps laps around him and his awful performance.
This early portion of the album is honestly amazing and as good as 99¢ gets. After that the album goes downhill with ballad type songs like "Outside The War," "Run the Races" and "Before the Fire," where White tries to be more relatable and connect more to her listeners, but it's a lot more interesting listening to her sing about people's false sense of confidence. These songs would benefit greatly from not being so masked in effects – that is, if they were more musically and instrumentally ambitious.
The album's mid part isn't all lost, though, because one of the more outstanding songs, "Rendezvous Girl," is placed right there. It's like White mastered time travel and went back to the '80s to make this song. There's a heavy use of synths and drum machines that give it that upbeat, catchy, '80s feel that overall makes this a remarkable song. The album does pick itself up by the end with the more punk and post-punk inspired jams "All I Got" and "Who I Thought You Were."
Just leave it to Santigold to make a listenable, solid mix of pop, reggae and punk sounds and pack it into a well crafted album. After listening to this album multiple times, you start to get a feel of just how washed out it is due to the multiple effects each song is hidden under. Even though the lyrics and tunes are all there, the production is under-ambitious (or even too much so at times). But, even with all gimmicks, 99¢ is one heck of an album and I hold no water in my mouth when I say I'd give this 8/10.