By Kaitlynn T. Liriano
The bitter, bitter twenty-degree weather and snowy days are finally over. The trees are no longer as lifeless and dead as they were just a few weeks ago. The temperature has risen to a mild fifty to sixty degrees. The sun is out, the bees are beginning to fly about again, and we're all beginning to sneeze a little more than usual. That's right, Spring is arriving.
Every year, like many girls, I love to change my style for the season. I like to look for the season's trends so that I can adopt them into my own style. Spring 2016 holds some promising new trends that everyone can adopt and make their own.
Two-Piece Sets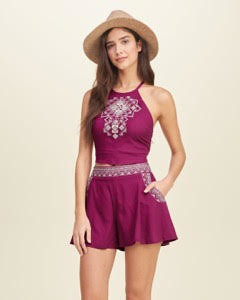 Two-piece sets are on the rise right now. They're great for those days you're just too lazy to manually pick out pieces that match. With a two-piece set, you automatically have an outfit and you save some time picking one out. This one shown above is from Hollister.
Button-down Skirts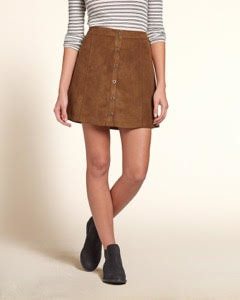 Button-down skirts have been making their way into many stores since the Autumn season and are now being carried over into the Spring. These skirts range in material from suede to denim and can be paired with simple tank or crop tops, denim shirts, or even t-shirts. This one above is also from Hollister. (P.S.: I own this skirt and I find it to be very comfortable and easy to build an outfit with. Highly recommend it!)
Floral Print Dresses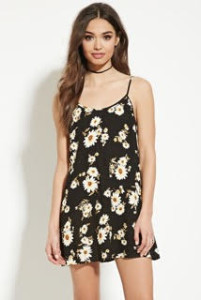 Floral print is the Spring trend staple. It is a trend that will most likely never die out. Why? April showers bring May flowers! The Spring is full of new blossomings, not just in the ground, but on our clothes too. Floral dresses can be matched with a plethora of colors, since they are often colorful and can be found in almost every store during the Spring. This one above can be found in Forever 21.
Off-the-Shoulder Tops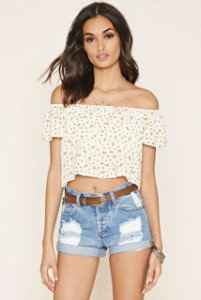 Though these have not often been a great focus, off-the-shoulder tops are making their debut as a trend this Spring. Recently I've seen these at every store I shop at in several different colors and designs. This particular one above can be found at Forever 21, but other stores that sell them include Hollister, H&M, and Zara.
Strappy Shoes
Strappy strap straps. They're in. This Spring, many flats and sandals have more straps than usual. This trend became popular about a year or two ago and only continues to make an appearance. They came back and this time, better than ever. Both pairs shown above are from Forever 21, but similar styles can be found at Steve Madden, Aldo, and other shoe stores.
Many of you probably have a lot of outfit ideas being born in your minds. Many of my fellow makeup addicts are also probably wondering what kind of face — yes, "face" — you would wear with these outfits. My best advice is to keep your face simple and add the pop where it is needed. I prefer to keep my makeup light and simple by using foundation, a lighter concealer to highlight my face, a glittery highlighting powder, filled-in bold eyebrows, and mascara. Also, I wear lipstick to match my outfit everyday to give my makeup that extra oomf. If you have a little extra time, you can even throw in a little contour to define your cheekbones. Below is a link to a simple everyday Spring makeup routine by my favorite YouTuber Bethany Mota. I hope I was able to inspire you and your closet. Until next month, bye!
https://www.youtube.com/watch?v=dcM7AWT3TTA