Kiara Ventura  Hosts an Art Show Party!
Rampage founding-editor and MCSM graduate Kiera Ventura is currently entering her Junior year at NYU with a double major in Journalism and Art History. This fall she heads to Spain for her junior semester abroad, but Ventura kept busy in July by curating an innovative gallery show in collaboration with rappers and poets from various local colleges.  Not unlike freelance curators from the "uptown meets downtown" art scene of the 1980s, Ventura hung experimental paintings in a non-traditional space, then invited three poets and two hip hop acts to perform live while friends and family networked and perused the art for sale.
Part 21st Century salon, part interactive theatre–the theme of Ventura's multimedia showcase was "Confessions."  Months earlier, painter Nicole Bello  held a house party where she asked those attending to drop short anonymous confessions into a box so she could paint healing images of the secret fears and problems each person confessed. The results were surprisingly beautiful and dreamlike.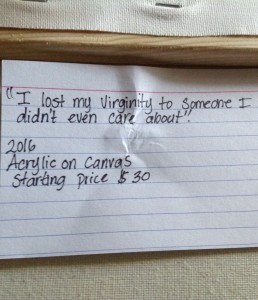 Mounted beside each painting and on the walls and ceilings of a donated garden apartment in Brooklyn, confessional images and words created an intimate cave-like atmosphere.  This impromptu gallery led to a backyard space where refreshments and an open-air stage were set up.
The mood of Bello's art and the stage performances were both positive and cathartic. Students from Hunter, NYU, and other schools immersed themselves in the night's transformative energy. Spoken word artist Diana Ozoria offered sassy feminist verses like "I Know the Devil is Real Because I Used to Date Him." Hip Hop group "All Year Summer" kept it real with the witty single "(I Got My Wallet doing) Yoga." Rapper Ceezar (Chris Hearn) gave us melodic affirmations like "Celebration" and "Smile."
By the end of the night, several paintings had been sold and audience members even passed the mic to offer their own confessions to supportive feedback.
In putting together this event Kiara Ventura has come up with a fresh entertainment format…one which she hopes to promote in commercial nightclubs one day.
[If you are a graduate of MCSM and are doing something in college or in your career that you think MCSM students and faculty would enjoy hearing about, drop us a line!  You could be the subject of our next "Illustrious Alumni" column!]