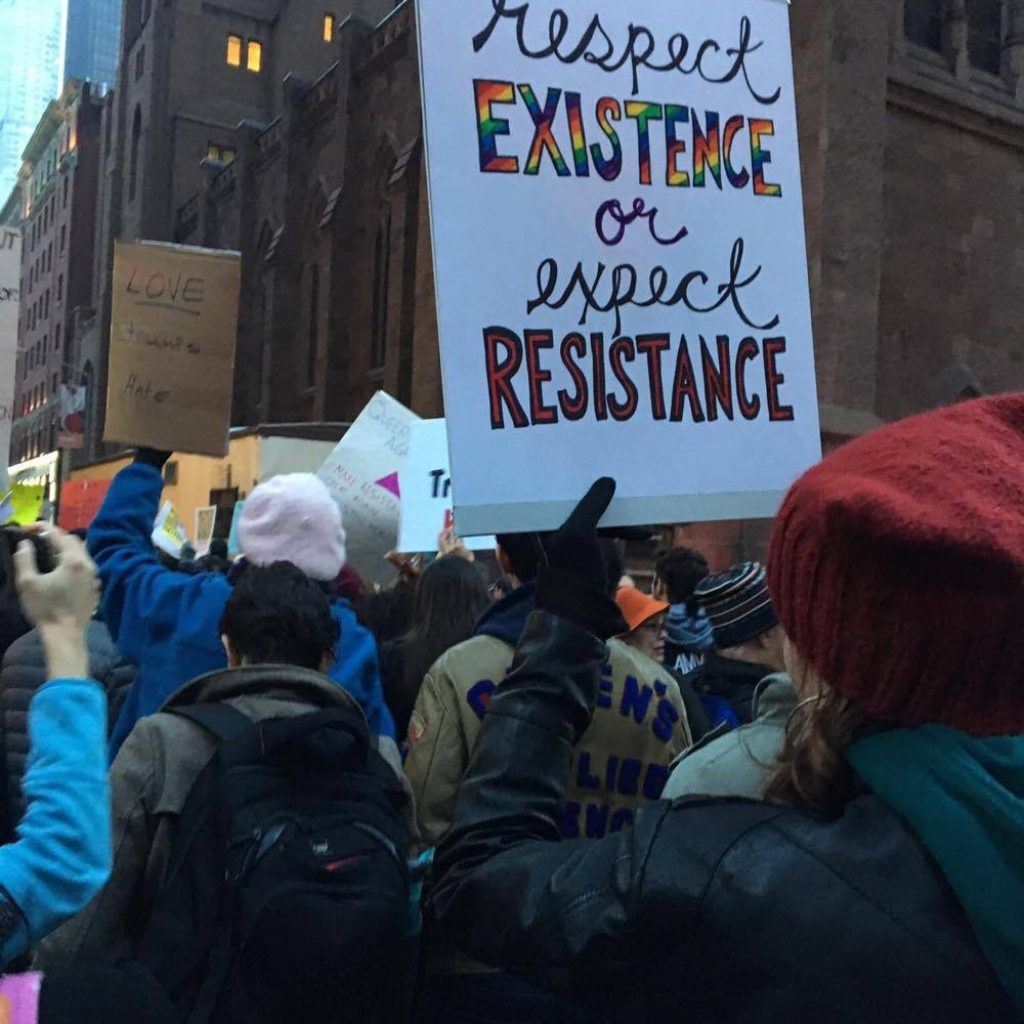 By Haby Sondo
January 21 of 2017 marked a day of unforgettable unity in United States history. More than one million women rallied and marched in solidarity around the world to let their voices be heard against women's issues currently permeating society such as the prevalent gender wage gap, abortion rights, and hate crimes against women. The women's march has undoubtedly brought women into a new era, one where we continue to demand our issues to be heard, our hard work to be recognized, and our presence on this planet to be appreciated.
I was able to talk to several bright-minded young women who were eager to share with me the impact and importance of this Women's March.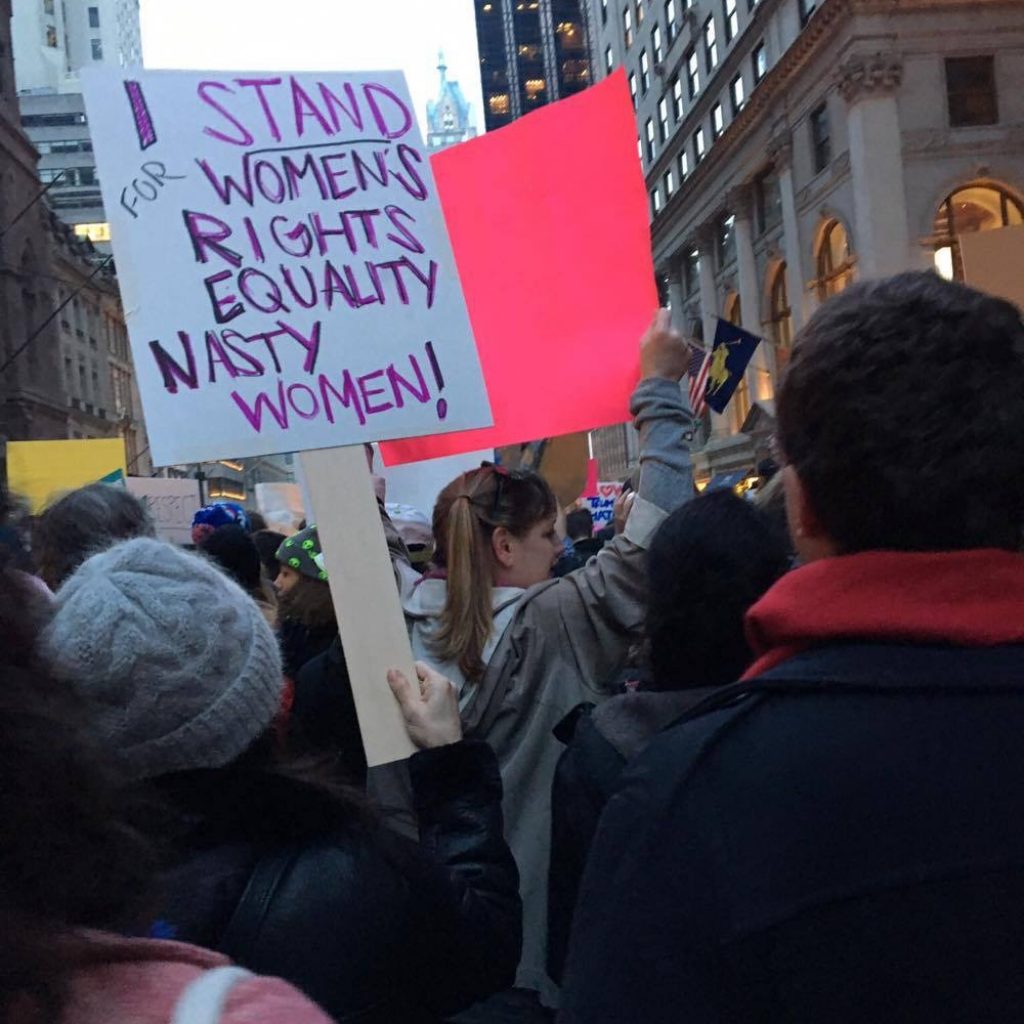 • • •
Emma, an 18 year old woman from New Jersey was one of the thousands of teenage girls who attended the march. When asked what women's issue she believed was most at risk under Trump's presidency, she responded:  "Trump's presidency does not really threaten one specific women's issue.  [It's just become] a more ugly face for the racism, sexism, and  xenophobia that have been [a part of] this country's foundation since it was created.   It's [more about] us sticking with our old ways instead of making the progress we need. "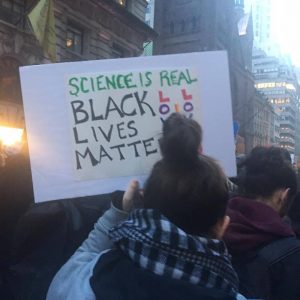 Like many women who were at the march, Emma did not believe that Trump's presidency directly affected her. Emma sees herself as a martyr, someone willing to fight for groups of people who will possibly have their liberties taken away as Trump becomes president.
Emma responded "Trump's presidency does not directly affect me. I'm white, I'm cis, i'm upper middle class.  It's  not really going to affect me except I gotta pay more for college maybe. I am a female and i'm hoping that I won't have that much trouble with it but the fact is that I am not the one who is getting targeted in this situation. I'm fighting for myself and I'm fighting for everyone, every women, every person of color, every disabled person."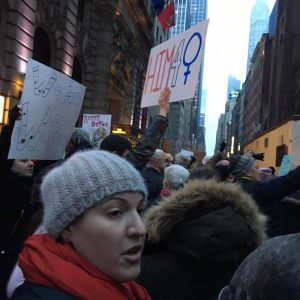 As an 18 year old, this was the first election Emma voted in. She expressed her regrets over voting for Hillary, for she is not a Hillary supporter. She,  as well as thousands of other voters, voted for Hillary because she represented a "lesser evil" of the two candidates. Emma sees Hillary as "a less ugly manifestation of the same systems of oppression and discrimination that our country is based on."
Emma wishes she had voted for Jill Stein instead; not because she is a supporter, but because New Jersey would have gone blue anyway.  She wanted to give Stein the 5% vote she needed to get Green Party support in the upcoming elections, for she believes that America needs to dismantle its two party system which left many voters like Emma with a feeling of helplessness.
• • • 
Emma had many hopes for the march, one especially being that people educate themselves on feminism, and that people don't "oversimplify feminism" to the extent that they have been. "Because, " Emma explained, "yes it is the basic thought that women are people and have rights equal to men.  But  to [only] say that is a gross oversimplification of the myriad of issues that affect women who are not white and upper class. There are so many [other] factors like race, class, ability, etc."
As a current student of Cornell University, she  frequently participates in marches. When asked about her reasons for attending the march, she responded, "I want to be surrounded by people who are like-minded, and I'm hoping to not feel so alone in wanting a revolution."
Fatoumata Doumbia, a 17-year-old senior at New Heights Academy Charter School in New York City also attended the march. When asked by her friend Yacine to attend, she knew it would be an excellent opportunity to have her voice heard.
"I thought there was only going to be a D.C March. Later on I found out that there were sister marches going on everywhere," said Fatou. I agreed [to participate] because I felt useless [just] reading Facebook posts and making angry faces towards all the things I saw currently going on in this world. The march was a way for me to release that anger, and be in a space where I'm sure everyone is on the same page as me."
Along with many other women, Fatou is most frightened by the stance Trump will take on Planned Parenthood. She said: "Trump defunding organizations like Planned Parenthood scares me the most because I know it provides women with lots of health care resources. Considering that women make less than men in many career fields, [they shouldn't have] to worry about paying all those [extra] medical costs just so they can stay healthy." Fatou, about to turn 18 years old,  says that she will need to find a place that can provide her with affordable healthcare. She fears that this may no longer be an option for her.
As for her hopes after the march, Fatou wants it to make a change. "I hope that this march is not just some one-time thing. Under Trump's presidency, I feel like people need to start findings things that they find to be wrong within their government and communities [and start demanding them from the government]. While I like that lots of people attended the march, I don't want […] these same people to sit behind their computer screens [but for them to] contact their local and local and federal government officials. I would like for the protests to get more serious."