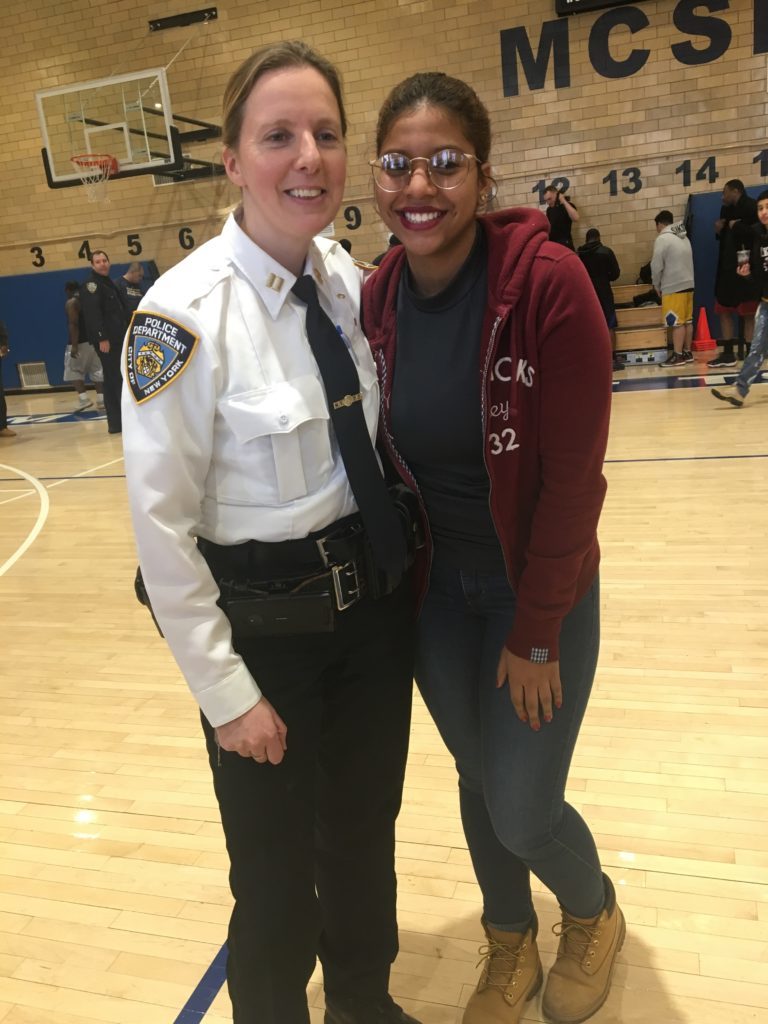 By Haby Sondo
{Editor's Note: in February of this year, the New York Daily News reported that females now make up 17.5 per cent of the NYPD. Out of these women, 73% are officers, 11% are detectives, 12% are sergeants, 3% are lieutenants, and 1% are captains or higher. Of women on the police force, 30% are white, 29% are African American, 38% are Latino, and 3% are Asian. In 2017, Assistant Chief Kim Royster–who in 2015 became the highest ranking uniformed black woman in the department's history–was promoted yet again to become second in command of the NYPD's Community Affairs Bureau.}
• • • 
Every New York neighborhood and school is protected by a local police department. Since Manhattan Center for Science and Mathematics in East Harlem is no exception to this rule, we decided to interview the police chief of our school's own precinct: Captain/Deputy Inspector Kathleen Walsh.
The same way that people don't automatically think of women becoming engineers and scientists, many still don't imagine female cops rising in rank to positions of power until they run an entire precinct. Because police work–like science and engineering–is typically considered a man's game, female students at MCSM might easily relate to how Captain Walsh chose, earned, and handles this very special job. Another inspirational aspect of Walsh's story is that she, like a significant number of MCSM students, is the daughter of immigrants. Her success reminds us all that neither gender nor coming from an immigrant background should stop you from pursuing the job of your dreams.
•••
Q: Tell us a little about how you grew up. Did you become interested in police work because there were already police officers in your family?
Capt. Walsh: I actually am the youngest of ten children from a big Irish family. I am the only one in my family in law enforcement. I grew up in the west coast of Ireland on a small farm. I was born in Yonkers, New York actually, but my parents are both from Ireland so they moved back to ireland when i was 3 and a half. I moved back here when I was eighteen.
Q: Did you always want to be a cop?
Capt. Walsh: Growing up, I did not think I was going to be a Police Officer in New York CIty. I thought about becoming a vet. I loved animals because I was on a farm. I was always outdoors, never really saw myself sitting in an office type job.
Q: How long now have you been back in the U.S.?
Capt. Walsh: I've been in this country 22 years, going on 23 years. Most of my family are in the medical business–nurses, nuclear medicine, that kind of thing. Watching TV shows like TJ. Hooker, I always had an interest in law enforcement, in helping folks. I went to the College of Mount St.Vincent when I first came over here because I was going to go into nursing like some of my other sisters. Then I got interested in the science–Chemistry and stuff like that–and changed my major to forensic science, [transferring] to John Jay college of Criminal Justice for Forensic Science. While there, the NYPD Cadet Corps were recruiting, I signed up, became a cadet, and when I finished college I came on the police force.
Q: What was it like for you when you started? Did you find the job hard or easy after college?
Capt. Walsh: It's been seventeen years now on this job and I love it. I love this job and being outdoors, i like working with people, i love to try and help folks. I think that the majority of us take this job to try and help people, to catch the bad guys, and do good for the community. To try and give back.
Q: What was it like for you to join a traditional male profession? Did you experience any resistance or problems with male co-workers?
Capt. Walsh: I've been very lucky and blessed, and it's probably because of the women who have come before me–the trailblazers. The commanding officer in the borough of Manhattan is a female. There are a lot more females on the job now than there were before. It's the women that came before me that made my experience easier. I really never had any issues with males on the job, I've never felt any negativity towards me. I treat my personnel fairly. I show them that anything that I ask them to do, I'm willing to do myself, and they see that and I think that helps. But again, I came on the job in 2000. It's the women who came before me that had the tough job of breaking through barriers, and they paved the way for me; so I really have not experienced any obstacles because I am a female.

Q: How did you rise to your current position?
Capt. Walsh: I took every promotional exam as soon as it became available to me. You have to have three years on the job before you take the sergeant's exam. I took the Sergeant's exam, I passed it, then I got promoted a little over five years on. The same thing when the lieutenant's test came around. I was eligible to take the lieutenant's test, thankfully I passed it, and got promoted off that. The same with the captain's promotional exam. As soon as they came out with the captain's exam I took it, passed it, and got promoted to captain. It [simply] worked out for me how often they put out exams. I studied, and luckily enough I passed them. And here I am. They're not discretionary. You pass the test and you're pretty much guaranteed to get promoted.
Q: What kinds of questions and information are on these exams?
Capt. Walsh: It's all procedures and laws. Procedures on how you handle stuff out on the streets, how you handle stuff in the buildings. It's the penal code and some of the laws in there.
Q: What would you say to other young women who are considering a job in law enforcement?
Capt. Walsh: I absolutely encourage them. It's a phenomenal job. You get to meet the most interesting people both in the department and outside in the community . You have an opportunity to give back, an opportunity to change someone's life for the better. It's got decent pay if you look at that side, there are health care benefits, dental benefits, a pension for when you retire. So there is job security as well, you're always setting up when you are ready to retire. There's that part of job and then there's the part that you're able to help somebody and make a difference. Which I believe women can definitely do on this job, make a difference.
Q: Do police get randomly placed at different precincts or can officers choose where they work?
Capt. Walsh: They will take into consideration where you live…for the most part people who live up in Westchester, Rockland County, or in the Bronx will get either a Bronx command or Manhattan North. So they do take your commute into consideration, so you're not traveling too far to work every day when they are placing you. It depends on the needs of the department too. If they promote somebody to Captain and there are captains needed in other boroughs, that's where you'll end up going. But they do take into consideration where you live when placing you.
Q: As a Captain, what do you think are the key elements of good community policing?
Capt. Walsh: Including the community in the mission of your precinct, keeping them informed, reaching out for their help because we can't do it alone. It's a joint effort when it comes to fighting crime, improving the quality of life in your command. It really is all about keeping communications open, being available to the community, being able to hand out your phone number and being willing to meet with them,
Q: Are you reaching out in particular to young people now?
Capt. Walsh: I really think it is important for us to try and connect with the youth. I just want to get the youth to understand that we are human too, that we are a lot like you guys.
I really want to improve police / community relations just to build a trust. I think we have a pretty good relationship with the East Harlem community, people from the community respect us, want us here, and appreciate what we do. Our cops respect the community too. In most cases, it's less than one percent of residents that cause the issues. 99.9 percent just want to live in peace without being the victim of a crime or violence.
Q: What other activities does the NYPD initiate to improve police relations with local youth?
Capt. Walsh: There are a lot of sports. We also had a group called Public Color that was getting the youth involved with painting the schools. We had some of the cops volunteer to go with the kids and paint some of the schools I n the area. We also have the Explorers program which kids in the community can join to do stuff to benefit the community such as painting graffiti locations and stuff like that. Our school sergeants also go into classrooms to talk to kids about anything from anti-bullying to coming on our jobs.

Q: What is the difference between being a regular cop and being a lieutenant?
Capt. Walsh: Being a boss is a little different. The hardest is going from police officer to Sergeant. Being the commanding officer of the 25th, I'm in charge of all of the operations that go on in the 25th, and all my personnel. It's a huge responsibility, but it's also an awesome responsibility. You take great pride in the stuff you get accomplished. You take pride in your staff and the work that they do.
Q: I notice a large chart you have in your office with different crimes listed on a whiteboard. What is that for?
Capt. Walsh: We keep track of crimes on a weekly, 28 day, and yearly basis. Precinct activity during those periods is always compared to what was happening at the same time the previous year.
Q: How does that work? For example, right now we are in the 17th week of 2017.
Capt. Walsh: We are going to compare at the end of this week how we did last year of the same week in 2016. So you're always trying to do better than you did last year. At the end of 2016, we ended up 7 percent down in overall crimes compared to 2015.