By Shumaya Islam
Regarded as one of the nation's most prestigious programs, the National Honor Society (NHS) becomes a scholastic highlight and a major involvement for many of Manhattan Center's seniors. In order to help determine who can become a member, MCSM awards the top 75 academically achieving students upon their transition to senior year. As a senior myself and a fortunate member of the NHS, I wanted to learn more about what this program had to offer. More specifically, I wanted to know how MCSM supports tmembers' participation in the program.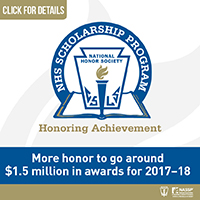 I spoke to my classmate, Bidisha Majumder—this year's Vice President of our school's NHS—who explained to me some of her plans for her term, and her vision for the future of the program.
Q: Considering that the top 75 academically achieving students at our school have a choice to apply for the NHS, what prompted you to do so?
Bidisha: I knew that by being a part of NHS I would get to work closely with the school administrators, and that my colleagues and I could finally be a voice for the student body. Being in NHS means you must be a leader and that you have a bit of say in what happens in your school. This is something that I support, the students getting a say in what happens in their school.
Q: What is the role of a typical NHS member?
Bidisha: As I have mentioned before, NHS members are required to be leaders. They must work in coordination with the student council and administrators of the school to help better the school, and make sure events run as smoothly as possible.
Q: What are your personal plans as Vice President  of the society?
Bidisha: My motto in life is: "work hard, play hard." What I want to do is put together as many fun events as possible; not only so this school year is more interesting, but also to make the school community feel more closely-knitted.
Q: What do you think about our school's system of organizing NHS?
Bidisha: Although I believe the intentions of the NHS are good, I do believe that the organization could use a bit of improvement. But with board members and a teacher who is willing to accept and work with our ideas, I'm certain we will make it work, and fix the bugs in our system.
Q: What is one thing you hope to accomplish by the end of your senior year?
Bidisha: Aside from the $2,000 we have to raise… ha, ha, ha … my overall goal for this year is to give our student body new and fun experiences, and just to make it a productive year for our NHS members.